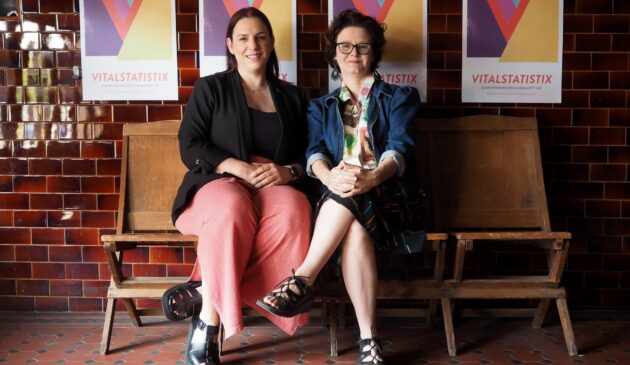 The board of Yerta-Bulti/Port Adelaide-based not-for-profit arts organisation Vitalstatistix is pleased to announce the appointment of Cassie Magin to the role of Executive Director/Co-CEO.
From its home in the heritage-listed Waterside Workers Hall, Vitalstatistix plays a significant role in the Australian arts ecology by championing Australian artists who are creating transformative, multidisciplinary art and progressive public dialogue.
As a fundraising, finance and governance leader, Magin joined Vitalstatistix in the role of General Manager in May 2022, and made an immediate and significant impact on the organisation. The new role establishes a dual-leadership model alongside longstanding Artistic Director/Co-CEO Emma Webb OAM. The strategic appointment will support the further development and ongoing operations of the organisation, as it emerges from the pandemic and looks ahead towards celebrating its 40th anniversary in 2024.
"Like all of our colleagues across small to medium arts sector, Vitalstatistix has been under immense pressure over the past few years," says Chair, Angela Flynn. "While navigating both the economic and emotional tumult of the pandemic, we have found ourselves under increasing pressure to do more with less. By establishing this role and appointing Cassie, we are bolstering our organisational leadership and capacity, and ensuring the continued success and longevity of the organisation. The appointment is a direct and tangible application of the core values of sustainability and care that are driving our strategic vision in 2023 and beyond," says Flynn.
Artistic Director/Co-CEO Emma Webb OAM welcomed Magin's appointment as an important step for the organisation.
"I am absolutely thrilled to be working alongside Cassie, as Vitalstatistix soon reaches the milestone of forty years and moves into our fifth decade of progressive artistic and cultural work, contributing to our community here on Kaurna Country and to the South Australian and national arts sector. I am delighted to welcome her expertise and comradeship to this new dual-leadership role. As well as her impressive leadership, fundraising and not-for-profit sector skills Cass brings such passion, dedication and care to Vitals, the artists we work with, our home the Waterside Workers Hall and helping create a strong future for our organisation. It's a wonderful partnership and I'm excited for our future," says Webb.
Says Magin: "I am delighted to be elevated into the role of Executive Director / Co-CEO for Vitalstatistix, enabling me to bring all of my skills to this incredibly important organisation. I possess an immense passion for the Yerta Bulti (Port Adelaide) community and the artists for which we exist. I look forward to focusing heavily on the diversification of revenue streams, showcasing the beauty and versatility of our wonderful Waterside Workers Hall, and being a driving force behind the survival of experimental arts and culture post-pandemic. It is a true honour to work alongside the highly-awarded Emma Webb OAM; together we anticipate exceptional things for the organisation as we take it into its fifth decade."
Vitalstatistix was founded in 1984 by Margie Fischer, Ollie Black and Roxxy Bent – a radical and ambitious act by three women determined to make a difference to the opportunities for and workplace experiences of women artists in Australia. This determination to make change still lies at the heart of the organisation. Valuing experimentation and public engagement, Vitalstatistix works across theatre, dance, performance art, sound, social practice and more, offering artists and audiences a vibrant  site for important ideas and outstanding arts experiences.