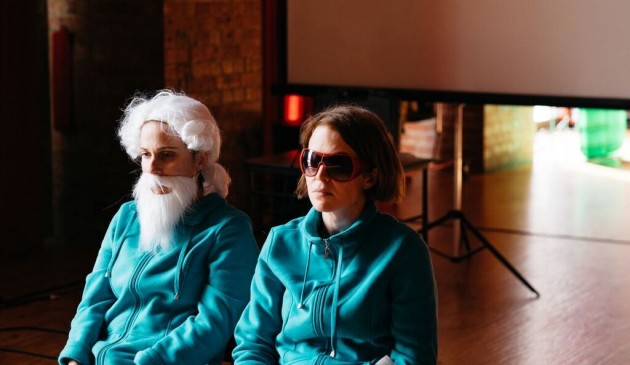 Vitalstatistix spoke with Emma Valente, co-Artistic Director of Victorian-based theatre company THE RABBLE, and South Australian-based visual artist and theatre designer Meg Wilson, who has joined THE RABBLE as lead artist intern in 2016.
V: Emma, tell us about THE RABBLE.
EV: THE RABBLE is a group of artists who have been making theatre for ten years together. We produce experimental theatre that interrogates the human condition through a combination of surreal and visceral aesthetics, feminist sensibility, and the application of deeply research.  Kate Davis and I are the Artistic Directors of the company. We are also the creators, directors and designers of all the work.
We are attracted to subterranean feminist concepts in iconic stories from folklore and literature. Our productions are realised through sweeping design and intense theatricality. We have abandoned male-dominated play scripts and replaced them with an improvisational methodology using poetry, prose, image, tableaus and gesture. We have made radical adaptations of many well know stories and novels including: Frankenstein, Story of O, Orlando, Cain and Abel, Picture of Dorian Grey, Joan of Arc and Ulysses.
V: You undertook a residency with Vitalstatistix late last year towards the development of your new work Ulysses. Tell us about this work and the value of a residency in the early stages of developing a new performance.
EV: THE RABBLE is working on a ten-hour durational event that is a radical feminist adaptation of James Joyce's Ulysses. Taking our cues from Joyce's novel the piece is a series of nine experiments that investigate the act of performing, intellectualism, femininity, the extremes of the body and death. The performance is broken up into eight Acts across the ten hours.
This project is extremely ambitious and the residency at Vitals was imperative in moving the project beyond being just an idea, to something that seemed achievable.
Kate and I knew that to make this project we needed time and space, we needed to be able to immerse ourselves in the book and in the project to map out how we would make it and what it would be. We got to do this at Vitals last year in November. It was such a rare opportunity to be given space to work on a project of such ambition, right at its early stages. I can think of very few companies who would offer this kind of support for such a huge project.
The outcome from that fortnight was so fruitful. Kate and I devised a schema for the whole work, which we are now working from. We really cracked open the whole idea, we decided that the piece would be a series of performance experiments that would take place over ten hours. We started to work out what those experiments would be, and even got to testing a few of them. We were also able to wrestled with the fact that we were doing the book at all, this huge part of the modernist canon, which has little to do with our own experience. This fortnight gave us the chance to work through this problem and has deeply influenced the format and the content of the piece.
V: How important is it to work nationally and what do you think is the fit between THE RABBLE and Vitalstatistix?
EV: It is imperative for us to work nationally. The industry is so small and the market for our work is niche, we can't possibly expect to work only in Melbourne. We also want to make sure that we can reach as many people as possible; we love having the opportunity to perform for new audiences and make connections with new people.
Our relationship with Vitals has been a very fruitful and exciting one. Vitals emphasises process, development and experimentation, which is our focus as well. It is so excellent working in an environment that privileges these ideas, rather than being completely product driven. Being given space and time to develop and experiment with ideas undoubtedly makes our work better.
V: Why does THE RABBLE offer internships and what's the exchange like?
EV: THE RABBLE has always worked with secondments and interns. Kate and I have made a huge effort to respond to most people that approach us. At the end of last year we got so many requests that we just decided to formalise the process, try and choose the best person, not just the person who sent us a well-timed email. We also realised that it was probably more beneficial if we offered a program that was longer than just one show or development. So this is our first year of offering yearlong internships.
We hope the exchange is an exciting one.
We have designed the program so that our interns not only get to observe and contribute to our work but also have time to chat about their own work. For me it's important to understand stay in touch with what emerging artists are doing, how their approaches are different to my own and what are the subjects they are preoccupied with.
This program has been a great way to get to know more emerging artists and their work.
V: Tell us about what you are working on in 2016?
EV: THE RABBLE is developing quite a few projects in 2016. We have already completed two developments this year – one for Joan with Malthouse and one for Ulysses, this time based at The Substation in Melbourne. We will be remounting our version of Cain and Abel in July this year again at The Substation. I'm pretty excited to revisit this project, we performed it at Belvoir St two years ago and I found the subject matter fascinating. In this production we are asking ourselves, what if the first murder was committed by a woman? How would this affect our iconography and our history? There is a chasm in historical representations of women who are violent and it was so interesting to find this black hole in feminist research.  I'm pretty keen to delve back into that world.
V: How are you feeling about the future of Australian arts?
EV: Pretty queasy. Like everyone, I'm waiting white knuckled for the next round of funding announcements. I'm worried that many of the companies that THE RABBLE could potentially partner with will be cut. I'm worried that the cuts are going to mean that the presenters who get funding are going to take fewer risks. And I feel sad. In Melbourne we'd been through a really exciting movement in the independent scene, just before the funding cuts were announced and now that movement has been cut off at the knees. I feel like there's been a great opportunity lost.
On the other hand, I've had the opportunity to meet many artists who are just beginning their careers. I'm inspired and energised by their enthusiasm and creative drive. There is such an incredible next generation of artists coming up at the moment, particularly many female artists who are making gutsy and inspiring work. I'm looking forward to seeing what they do next.
V: Meg, tell us about your artistic practice.
MW: I am an interdisciplinary artist who works predominantly with large-scale and often site-specific installation and performance. In recent years I have broadened my practice to encompass design for theatre and events. My visual art and theatre design practices are now mutually influential and often overlap.
A common theme explored within my work is the performativity of space, the surreal and abstract within familiar everyday spaces, and the audience encounter with the ordinary, set within the context of the out-of-the-ordinary.
V: Tell us about your connection with Vitalstatistix and the kinds of projects you have worked on with us.
MW: My first encounter with Vitals was in 2012 when I worked with Gaelle Mellis on Take Up Thy Bed & Walk. I spent a lot of time observing and embroidering handkerchiefs in what was my first encounter with theatre behind the scenes. Gaelle and Vitalstatistix took me under their wings and it is here that I found my creative home.
In 2014, undertaking a residency with Rosie Dennis of Urban Theatre Projects at Vitalstatistix, I was exposed to a new way of working. A way that is not solitary, where no idea is precious, where bigger and better ideas are built through the sharing of ideas. A place where it's ok to mess things up, and ok to be vulnerable. Coming from a largely solo practice, this was totally new to me. This is also where I met Ashton Malcolm and Josie Were, with whom I have recently formed a performance collective.
I've gone onto work with Vitals in the role of collaborating artist/designer on some of the most exciting and experimental projects of my career so far, working with artists such as Mish Grigor on Man O Man and Willoh S.Weiland and Halcyon Macleod on Crawl Me Blood.
V: Why did you decide to apply for the internship with THE RABBLE?
MW: I see working with THE RABBLE as the next step in discovering how and where I can push my skills and ambitions at this point of juncture between visual arts and theatre in my practice. Where abstract installations may become the set for theatre, and where an installation in a gallery can be the site for performance and audience interaction. Where boundaries are pushed and ideas are challenged.
I wanted to become immersed in theatre devised through the manipulation and play with objects in an environment. This is what THE RABBLE do, and do so well. I only knew of their work through word of mouth and from what I could gather from images and short videos online. Unfortunately I was overseas when they were here working with Vitals last year, so I missed out on meeting Emma and Kate then. I think I saw their callout for internship positions on Vitals' Facebook feed, and I jumped at the opportunity!
V: You kicked off the internship recently, spending some time with THE RABBLE in Melbourne – how was that?
MW: One word: EXCELLENT! So far I have only spent four days at The Substation with THE RABBLE and I have already learnt so much. Emma and Kate are very generous and welcoming individuals who have taken significant chunks of time out of their days to answer the many questions that I have.
Most of my time thus far has been spent observing the way they work in a room with their main ensemble members, Dana and Mary Helen. They've been working on another development of Ulysses, for which they did a residency at Vitals last year. It's nice to begin with a project that has that familiar link between us.
V: What will you be working on with THE RABBLE in 2016? And what is your role?
MW: I was selected for the role of Internship for Lead Artist – for an artist seeking experience in performance making through a devised process. I will be working on five projects throughout the year that are in various stages of development. There are some projects that I will be able to observe from beginning to outcome, such as In the Bleak Mid Winter, an event curated by THE RABBLE at Malthouse. Then there are others, such as Cain and Abel, which are projects already at production stage.
I think that the role will vary hugely dependent on the project. At times it will be a chance to observe rehearsals and performance works at various stages of development, as well as to be able to participate in creative meetings and design concept meetings across the year. There will also be times when all hands will be required on deck…and I'm totally ready to jump in when I can!
V: What's valuable about this type of opportunity?
MW: THE RABBLE work with real objects and create abstract worlds that show the truth of the materials used in their creation.
Content is created through improvisation and trial and error, then gradually shaped and refined through process. I am interested in the way that they blur the roles in theatrical practice.
The roles of director, designer, performer are all as collaborators present from the very beginning to shape all parts of a work. There are currently very few opportunities to work in this way in Adelaide, so I'm very excited to be jetting to Melbourne throughout the year to work with and learn from THE RABBLE. I have already spent a lot of time excitedly reporting back to Josie and Ashton about how this unique experience could be instrumental in informing the way we hope to work together as a collective back in Adelaide.