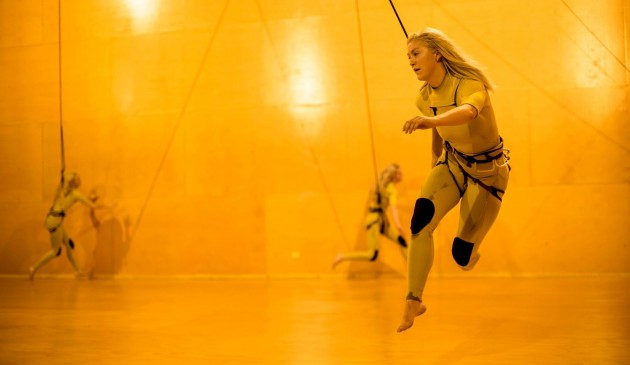 Vitalstatistix spoke to dance artists Atlanta Eke and Erin Fowler about the changing face of local and national dance practice.
Atlanta is a Melbourne-based choreographer and dancer who is developing her new work I CON with Vitalstatistix in November. Erin is a choreographer and dancer, co-director of creative hub The Mill, and recently participated in Vitalstatistix's Aeon residency.
V: Could you each tell us about your artistic practice?
Atlanta Eke: I am a dancer choreographer working in Australia and internationally. My work with dance is currently project specific, and has been for some years. I work in collaboration with fellow dancers, artists and arts administrators in variety of contexts. Having recently had opportunities to present work in exhibition spaces, I am interested in how an exhibition space and timeframe can be utilised as a resource for developing dance.
Erin Fowler: My practice is based primarily in dance and music but has a strong focus on collaborative and audience driven/immersive work. As founder and co-director of The Mill I have the privilege of being surrounded by over 38 artists from a wide range of disciplines and am constantly inspired by their creative projects and passion. I am always looking for ways to place myself out of a 'normal' context. For example, I find myself a lot more free and uninhibited to create work when I am surrounded by artists of a different discipline, or am in a different country or culture, which has certainly been a big part of my practice over the past few years.
More specifically, as a choreographer, one of my biggest influences has been my experiences in China training in traditional martial arts including tai chi and kung fu. Tai chi allowed me to experience a more internal sense of energy in the body and this led to a continuing fascination with the energy systems of the body and how they can be expressed through the external medium of dance. I am interested to see if these subtle energy states and shifts can be perceived by an audience.
I also approach choreography as if I am writing music.  I think my brain works more in that sense than in physical generation of movement.
I see patterns, harmonies, polyrhythms through movement and am almost mathematic in my approach.
V: Atlanta, you have presented your works in black box/performance and white box/gallery spaces, as well as sites such as Cockatoo Island. Your work has been described as performance art meets dance. How do you feel about these descriptions?
AE: Is it like Juliet's contemplation on Romeo's status as a Montague? "What's in a name? That which we call a rose by any other name would smell as sweet." Or is it rather more like "roses really smell like poo poo-oo", Outkast's revelations that Caroline thinks her shit don't stink?
My work is with dance and choreography. Performance art, by the very nature of its title, requires an audience. I practice dance mostly without an audience. As my work is presented in a variety of places, a part of my role as choreographer is to consider how these places can produce different opportunities for an audience to experience a dance.
V: Do you think there is a specific, new interest in experimental dance in Australia, or do you think it is simply that artists are making works in different ways and more readily working across disciplines? Or perhaps both?
AE: Dance is a collaborative process, especially the relationship between dancers and choreographers. The Keir Choreographic Awards was the first opportunity I had to work with artists outside of dance, this was an invaluable experience. The chance to realise ideas beyond the limitations of the body is very exciting and now the impetus for ongoing collaborations with composer Daniel Jenastch, video graphic artists Ready Steady Studio, visual artist Claire Lambe and lighting designer Matthew Adey from House of Unholy.
There are a plethora of reasons for the increase in the variety of contexts dance is presented. I could speculate that a growing number of visual artists are intrigued by dance, and interested in working choreographically. Maybe all alone in the studio, they long for its collaborative nature.
Dance will continue to expand its horizons. Australian dance is currently generating an enormous amount of interest, from local audiences to major international presenting platforms, as a growing number of independent Australian dancers and choreographers are producing genuinely experimental work with great urgency.
V: Erin, you recently participated in the creative development of Aeon, through a residency with Vitalstatistix. Aeon is described as "a listening manoeuvre", a participatory experiment of sound, movement and group dynamics. Tell us about that experience and the process of working with a multidisciplinary team of artists across sound, choreography and social engagement.
EF: Aeon was a fascinating experience of a multidisciplinary project that brought artists together from a really exciting range of backgrounds as well as places. For me, it was a joy to be able to enter a project purely as an artist, rather than having to facilitate or manage aspects of the project, which has been my main activity over the past few years through The Mill.
The experience unfolded and became more and more comprehensible to me as the two weeks progressed. It taught me the value of patience and time and of allowing things to emerge organically rather than forcing an outcome which I think I often fall victim to, especially when you work in low budget contexts where you feel a pressure to deliver an outcome immediately.
It also really fuelled my fascination with audience driven works and how to lead, guide or prompt audience members during a performance. For this project we weren't able to speak which made it more challenging in one sense, but also really interesting for me as a dancer to see how we can push this non-verbal communication. It's also interested in this phenomenon of the crowd and how people's behaviour, even at a reasonably experimental and open-minded event such as Adhocracy, is still governed by responding within a perceived range of "appropriateness".
V: Atlanta, what is your experience of working across the ecology of dance platforms in Australia (larger dance organisations through to independent artist-run-initiatives)? How important is this ecology of different sized organisations, with different artistic and curatorial approaches, to developing the careers of artists like you?
AE: I continue to work across a variety of contexts and each dance is shaped by the conditions of its production. I have learnt an enormous amount through continuously navigating different territories for the development and presentation of my work. The opportunity to work with a diverse range of organisations has benefited my practice at large and provided each individual work a unique time and place to be realised.
A multiplicity of experiences is essential and an indispensable element to a sustainable career as a dancer and choreographer.
V: Erin, the independent dance sectors in Sydney and Melbourne, for instance, feel very different from here. There also seems to be flux and change in the dance sector in South Australia. What kind of platforms, initiatives, organisations and development do you think is needed here in South Australia?
EF: It is definitely an interesting time for dance in South Australia. I am really passionate to develop our independent sector so that we can properly celebrate, promote and champion the work of our talented artists and provide platforms for them to make and work in SA, rather than having to find supplementary work interstate or overseas as is often the case. The flow on effect of that happening is that there are few independent work opportunities for dancers who then also feel the pull interstate and overseas. It then becomes challenging to feel like there is an active and energised sector outside of our peak festival seasons.
That said, the industry has been coming together in really exciting and encouraging ways over the past year or so, and I am hopeful that this will lead to some positive developments to support our SA dance artists.
It's easy to get overwhelmed with the various problems and challenges and think it's one particular factor or another that is the cause. There are definitely a string of things that I think need to happen to support the sector more sufficiently. For example a dance-specific hub in the CBD to support independent practice, more pathways or opportunities to present work in an experimental, contemporary arts venue, etc. However, I think as a first step, the sector coming together and articulating their needs and vision from within, rather than waiting for it to be dictated to them, be it through funding decisions or initiatives can only be a good thing.
If we can empower artists to create opportunities for themselves, to go after big ideas, and make things happen for themselves, then we are creating a culture of self-sustainability and independence that I think is going to be required of us more and more in the future.
V: Atlanta, I CON continues your interests in simulation, popular culture and the corruption of the present tense, which we also saw in Body of Work (your performance that Vitalstatistix presented at this year's Adelaide Festival). Tell us about this new work.
AE: I CON is a performance interrelating the two themes of death and illusion to ask the question; what is contemporary? I CON is in long-term development, the first stage of development in 2014 was supported by Lucy Guerin Inc and Arts House.
I CON will explore methods of impersonation, learning how to impersonate artists who have died and artists that in dying have become iconic, beginning with Ian Curtis 1956-1980 (age 23). It is study of how artists of a particular time in history are perceived in the present day and ways in which they are immortalized through a culture of nostalgia and reproduction, in order to question the possibility for contemporaneity today.
V: Erin, tell us about the projects you are currently working on.
EF: I have a few of projects on the go at the moment.
I was fortunate to be invited to work with Australian Dance Theatre for their Ignition season earlier this year and created a short work, Epoch, inspired by Garry Stewart's theme of history. It was an awesome opportunity to work with such talented and responsive dancers. We only had a few days but they worked so quickly and it was a really great experience. I am really excited to be able to undertake a second development with the company at the end of the year.
I'm also planning a second development of my solo work, Femme, which I developed as part of the Mill's Choreographic Futures Residency in 2015 under the mentorship of Swedish based dancers Israel Aloni and Lee Brummer. The work has been a very personal exploration that touches upon ideas of beauty, self-control, perfectionism, anxiety and surrender. It's a very vulnerable exploration of my relationship to my body, myself as a sexual being, and my own self expression. It draws on a number of personal experiences including my time as an international model during my teens, where external image was the main focus of my work, and which was an experience that affected me more than I perhaps realised until recently. Beyond that, it's been a challenge I have set for myself to really find my voice as an artist, to not self-censor and to embrace my own expression.
The Mill is also about to undertake a residency in Indonesia at Ramah Sanur – a creative hub in Sanur, Bali. I am really excited about this project as Amber Cronin and I, along with six other artists from Australia and Indonesia will be collaborating to make a new multi-disciplinary work for a festival context over the four weeks. The Mill is really invested in long term, genuine international exchange, with projects in Sweden, Canada and now Indonesia so I am really excited to take the first step with this one in November.
V: For each of you, how do you feel about feminist performance and art? Do you feel there is a new generation of the feminist art movement? Do you think about these questions choreographically?
AE: My experience of feminism is that it is neither a tradition nor an aesthetic. Feminism renews itself all the time by necessity. It exists within a multitude of contexts and understandings that have never shared a collective consensus defining what it is and what it does. I am a feminist, therefore my work is inherently so.
EF: I think my perspective on this again comes back to some of my Daoist/Chinese explorations and recent work in Kundalini Tantra. Both of these fields see feminine and masculine energies present within everything – from individual beings, to the planet. I believe we currently idolise an unhealthy version of masculinity valuing outcome/progress/the individual/competition (patriarchy) leading to violence (war), greed (climate change) and inequality. I believe it is of benefit to all to shift our society and culture to cultivate more feminine traits such as introspection/intuition/community and feeling. When these qualities are valued in our society as much as our idolisation of what believe is an unhealthy version of masculine qualities then I think we will be in a much better place.
I see art reflecting this frustration with inequality in a whole range of ways. Some choose to respond to by "fighting" back, or "growing balls",  essentially playing within the masculine structures, and I see a definite place for this. In the past I have been driven and passionate to do this both personally and through my work.
Choreographically, my thinking on this has led me to create from a much more intuitive place. At the end of last year I burnt out from overworking, trying to prove myself and taking on way more than I could manage. When I work from this place my creativity freezes. And so it's only since tapping into my feminine essence and giving those qualities value over achievement and "fighting the system" that I've been able to create freely. Perhaps that's my current version of feminism!?
I am a fan of Beyoncé as someone who is completely in the mainstream and who is "allowed" to embody a range of female archetypes that most pop starts are not. Beyoncé is one of the few in my mind who can be highly sexual and provocative, intensely powerful and independent, vulnerable, a mother, and is still able to perform for the president. I think this is a healthy role model for young women to not feel like they will be boxed into one or another.
V: Each of you has worked with Vitalstatistix this year for the first time. Like Erin's organisation The Mill, one of Vitals' functions is as a community for artists interested in new ideas and forms. What is the value of organisations that create this space for artists, particularly those that prioritise development programs?
AE: The emphasis on development programs at Vitalstatistix is imperative to the production of my work. Vitalstatistix provides the time for the rigorous research required for strong conceptual framework and the space for experimentation and contemplation in the creative development. Vitalstatistix provides a multidisciplinary meeting place where things are made possible.  Organizations such as Vitalstatistix that foster community, offer a range of initiatives, value experimentation and address intensity of experience are perpetually crucial to my work.
EF: It's crucial that these organisations exist, particularly in South Australia. It's wonderful that we have access to so many amazing festivals and international artists through being the festival state but I find that pathways for the development and intensive making of work in SA is less strong. I would love to see residency programs attached to each of the festivals or more pathways for local artists to engage with and be presented in these programs. This would also help with building an audience that can better understand the developmental stages of making work, or work that is more experimental in nature and aren't just expecting big budget main stage works all of the time.
V: How is each of you feeling about the future of the arts in Australia at the moment?
AE: The future of the arts in Australia is already here, historically excellent and infinitely expanding into the unknown.
EF: The last 18 months have had some pretty distressing moments. It's been frustrating and disheartening to feel like at a broad cultural and political level, our country doesn't see the value of the arts. That the clichéd lazy bludging artist stereotype is still alive is tiring. But, to quote a cliché "what doesn't kill you makes you stronger."
During this time I have also really felt the artistic community band together, think more strategically, articulate our value and become more generous and community driven to support each other. I think if this can continue, combined with the support our sector deserves, then the future of Australian art is exciting and something I want to be a part of.