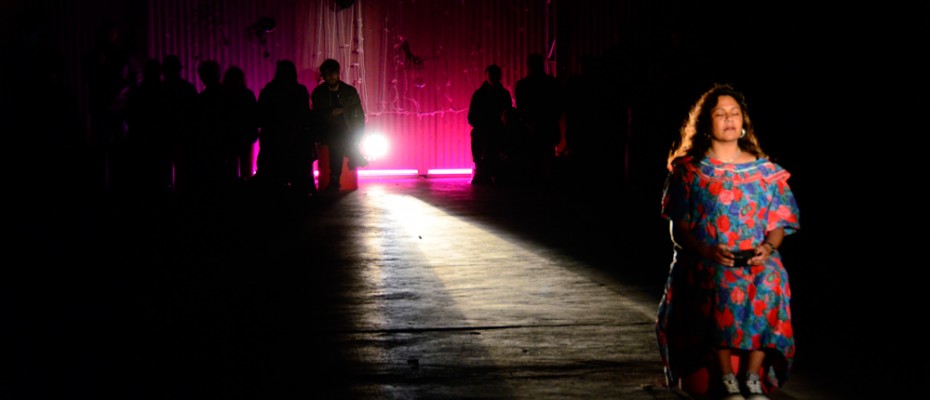 Vitalstatistix (Vitals) is a vibrant home for contemporary art and community life, based on the Port River, Yartapuulti, Kaurna Country in Port Adelaide, South Australia, at the heritage-listed Waterside Workers Hall.
Vitals was founded in 1984 by Margie Fischer, Ollie Black and Roxxy Bent – a radical and ambitious act by three women determined to make a difference to the opportunities for and workplace experiences of women artists in Australia. This determination to make change still lies at the heart of the organisation.
Vitals champions Australian artists who are creating transformative, multidisciplinary art and progressive public dialogue. Valuing experimentation and public engagement, the organisation works across theatre, dance, performance art, sound, social practice and more, offering artists and audiences an innovative site for important ideas and outstanding arts experiences.
Vitals offers year-round public programs of performance, residencies, projects, events, talks, exhibitions, festivals, collaborations, and professional development initiatives for artists. We look forward to seeing you.
Our key initiatives and streams of activity are:
Residencies: our residency programs, which support the creative development and premiere of new works, and nourish long term relationships between artists and Vitalstatistix.
Adhocracy: our annual hothouse, supporting the development and critical discussion of experimental, multidisciplinary arts projects in their early stages; including national keynote projects and new opportunities for local artists.
Contemporary Communities: multi-year projects commissioning new art and performance around contemporary issues, experimentation and deep social engagement.
Commissions: annual and biennial commissioning partnerships with local and national collaborators.
Presentation programs: seasons and exhibitions of contemporary performance and art; sometimes developed through our initiatives, sometimes selected through a strong curatorial alignment with Vitalstatistix.
Leadership and sector development: sector initiatives such as around women and non-binary leadership and workplace safety, our annual talks and works-in-progress program, and other advocacy and communications with artists.
The Vitalstatistix board and staff acknowledge that we, and our home Waterside, are on Kaurna country, its sovereignty never ceded. We acknowledge the Kaurna people as the continuing custodians of the Adelaide Plains. We honour their spiritual relationship with this land, and we thank them for welcoming us. We pay respect to the Kaurna Elders and through them to all Aboriginal and Torres Strait Islander peoples.
Vitalstatistix is generously supported by the Government of South Australia, the City of Port Adelaide Enfield, the Australia Council for the Arts, and our many program partners. Our communications/design partner is Freerange Future.
Like us on Facebook and follow us on Twitter and Instagram.
---